Canada's health care system lacks sufficient plasma supply to support Canadian needs
There is a global demand for immunoglobulins. More than 80% of the plasma used to make plasma protein therapies for Canadians comes from healthy, compensated donors in the United States.
Around 75% of the source plasma in the world comes from compensated donors. Without the generosity of these individuals, access to life-saving plasma protein therapies would be severely limited.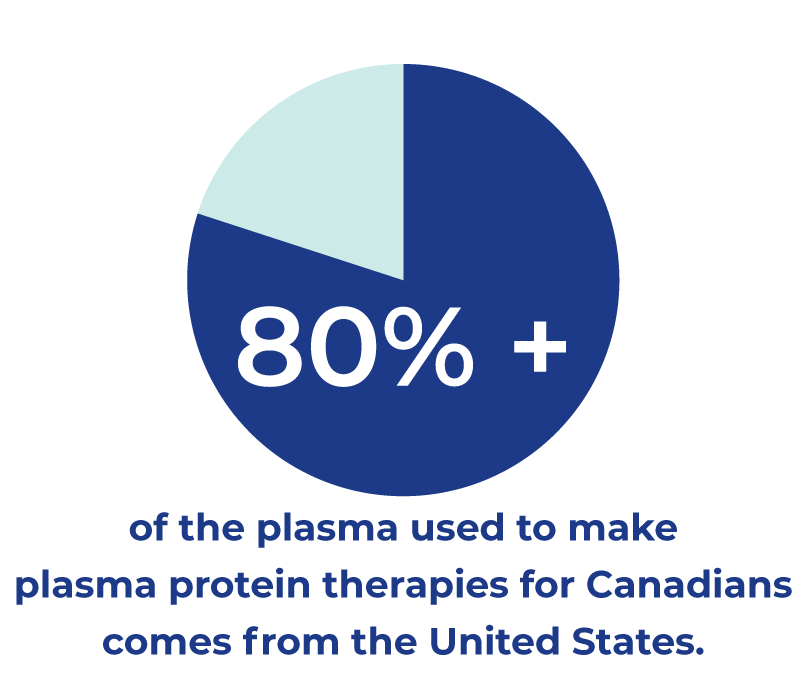 Canadian Blood Services only collects about 15% of the plasma needed from Canadian donors. As a result of rising global demand and Canada's insufficient domestic supply, Canada needs to do more to ensure sufficient supply for Canadian patients. As reported by Health Canada, "the current reality is that plasma from paid donors is needed to meet Canadian demand for plasma products".1
Plasma collection centers are regulated by Health Canada and safety is a top priority for both government and industry.
Plasma-Derived Protein Therapies
Human plasma is used to manufacture life-saving therapies that help treat a variety of serious and often chronic conditions. Patients requiring plasma protein therapies often have diseases that are rare, genetic in origin, and chronic conditions such as bleeding disorders, immunodeficiencies, and some lung and liver diseases. Many of these patients require regular infusions throughout their lives. For many of these conditions, no alternative to plasma-derived protein therapies exists.
Plasma protein therapies are prepared through a lengthy process involving several complex steps to filter proteins and ensure products are safe and effective. On average, it can take 7-9 months.
Patients Treated with Plasma Protein Therapies
Ethical, Efficient, Effective and Safe
Providing compensation for plasma donation is an ethical, efficient, effective and safe method for collection that respects the role a plasma donor plays in the manufacture and availability of plasma protein therapeutics. To ensure the process is accessible, donors should be compensated for their transportation and the hours of time they give to help save a life and Canadian governments must make legislative changes to build a sustainable supply of plasma to support Canadian patients.
1 https://www.canada.ca/en/health-canada/services/drugs-health-products/biologics-radiopharmaceuticals-genetic-therapies/activities/fact-sheets/plasma-donation-canada.html
Plasma donations differ from regular blood donations and typically take up to 2.5 hours to complete, meaning that compensating people for their donation helps make donating plasma more accessible.
Every year, it takes approximately:
Plasma donations to manufacture therapies for 1 person with a primary immune deficiency, a group of more than 450 rare, chronic conditions in which part of the body's immune system is missing or does not function correctly.

Plasma donations to manufacture therapies for 1 person with Alpha-1 Antitrypsin deficiency, a hereditary condition that can cause serious lung and/or liver disease.

Plasma donations to manufacture therapies for 1 person with hemophilia, a hereditary condition that does not allow blood to clot normally.
Patient Story: JEFF
Jeff is a Canadian alpha-1 patient and one of three siblings all living with alpha-1 antitrypsin deficiency. Jeff has benefited greatly from being on plasma protein augmentation therapy for the last five years.
"I want to thank all the people who have taken the TIME to donate plasma, especially in these pandemic years. It is with this gift that you provide me, and so many other Alphas, more TIME to enjoy life with friends and family. The plasma that I get weekly has stabilized my lung function and given me hope for a healthier future. Thank you!"
The Power of Plasma Donation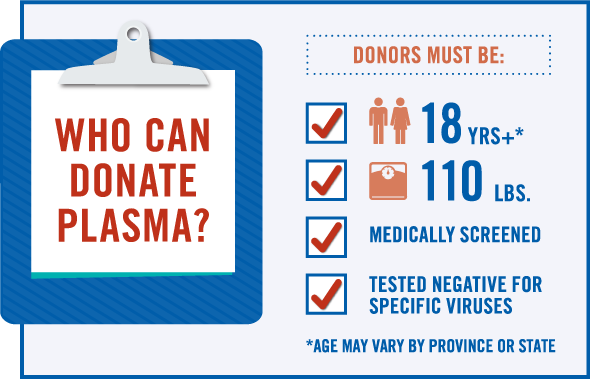 About us
The Plasma Protein Therapeutics Association (PPTA) represents more than 1,000 plasma collection centres in North America and Europe, as well as the manufacturers of lifesaving plasma protein therapies. We work globally to advocate for patient access to therapies, engage in constructive dialogue with regulatory agencies and collaborate with patient advocacy organizations.